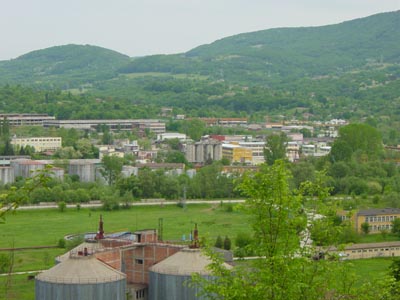 There are three industrial zones established in Gabrovo: North, South and West.
The North Industrial Zone (NIZ) is the largest and covers about 3350 decares, about 555 of which undeveloped areas, 368 with industrial functions and 187 decares of farm land. In accordance to the current town development plan, the zone borders cover the most northern and northeastern parts of the urban area. The main companies located in NIZ function in the field of machine-building industry, power engineering, construction, chemical, leather, shoe and textile industry, woodworking, food, wine and tobacco industry, high technologies etc. – about 100 companies and organizations in total which structurally determine both the town and the municipal economy.
NIZ is almost flat with slight rises of up to 15% along some of the borders. A cadastral map has also been developed.
The zone infrastructure is partially built with no basic infrastructure (roads, water supply, and sewage) to some areas. To the north, a by-road from Veliko Tarnovo to Sevlievo borders the NIZ, and Gabrovo – Veliko Tarnovo highway crosses its territory as part of transport corridor No 9. It is necessary that the roads of secondary importance be developed further in the area, so that the connections in and between the separate areas are optimized. NIZ has a railway service; deviations from the main railway lead to most of the sites. A Waste Water Treatment Plant for the town is situated within the zone limits, along with the Northern Industrial Zone Pumping Station, the Thermal Power Plant (TPP) of Gabrovo, Electricity Supply etc.
The Southern Industrial Zone (SIZ) takes up a smaller area but it is a place where more than 50 companies and organizations of economical importance are developing. The zone has a land division plan. The relief is almost flat. The further exploitation of 260 decares, 70 of which undeveloped areas, by means of planning and further building of the technical infrastructure - road network, water supply and drainage, is of vital importance to the development of SIZ.

The Western Industrial Zone (WIZ) of Gabrovo is in a process of construction and is located along the Gabrovo – Sevlievo highway. Up to the present, 22 companies are situated on the territory of the zone covering about 200 decares of land. The zone has a great potential for development in view of the great number of farm lands suitable for industrial needs. Within the WIZ boundaries there is a farm land of 200 decares suitable for the construction of an industrial park. The zone has a land division plan and partially built infrastructure in terms of water, electricity supply, and road access.