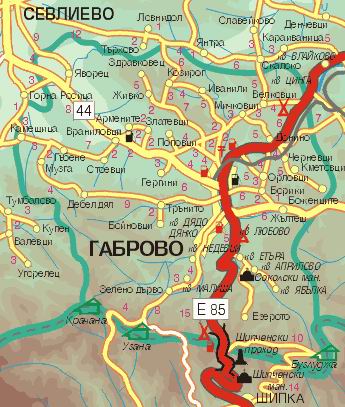 Gabrovo Municipality has a well-developed technical infrastructure in terms of road transport and railway transport.
Its favorable geographical location at the geographical centre of Bulgaria, makes it possible for Gabrovo to provide fast connection to airports, river ports and seaports. Convenient roads connect Gabrovo Municipality to the surrounding municipalities and towns in northern and southern Bulgaria.
471, 2 km of roads have been constructed on the territory of the municipality, 170, 2 km of which are part of the national road network and 301 km are municipal roads.
Gabrovo is an intersection point of two of the national arterial thoroughfares, which are of great significance to the European road network, i.e. road E-85 as part of the trans-European transport corridor № 9 (Helsinki - St. Petersburg - Kiev - Bucharest - Ruse - Veliko Tarnovo - Gabrovo - Dimitrovgrad with deviations to Greece and Turkey) and Hemus Motorway Sofia – Varna.
The road E 85 project – construction of a toll tunnel on 'Shipka' road - is a project of national significance.
The national road network is allocated as follows:
• Road I-5 V.Tarnovo – Gabrovo- part of main road E - 85
• Road II – 44 Sevlievo – Gabrovo – connection to main road E – 772 Sofia – Varna
• Road III – 552 Tryavna – Gabrovo
• Road III – 1052 Gabrovo – Uzana area
The European railway line CE 95 passes through Dryanovo and Tryavna. There is a deviation from Tsareva Livada to Gabrovo.
Distance to the airports in Bulgaria:
Gorna Oryahovitsa – 60 km;
Sofia – 220 km;
Varna – 274 km;
Bourgas – 234 km;
Plovdiv – 150 km;
The municipality has a small airfield in the village of Mezhdene which has concrete covering and allows gear landing. At this stage, the airfield is not included in the official aviation network of the country.
The nearest river port of Svishtov is 130 km. away.
The nearest seaport of Bourgas is 234 km. away.
Distance to important destinations in Bulgaria:
Sofia- 220 km.
Bourgas- 241 km.
Varna- 279 km.
Rousse- 152 km.
Gorna Oriahovitsa Airport - 60 km.
'Kapitan Andreevo' Check Point, Turkish border - 219 km.
'Kulata' Check Point, Greek border - 404 km.
'Kalotina' Check Point, Yugoslav border - 278 km.