Sisak is the centre of one of the largest districts in Croatia with 53 036 inhabitants. It is a picturesque place where the Odra, Kupa and Sava Rivers meet. The town's history began more than 2000 years ago when it served as a fortification of Illyrian and Celtic tribes by the name of Segestica. In 35 BC the town was conquered by the Roman Emperor Octavian and it was given the name of Siscia as it became a capital of Pannonia province. In the 16th century it successfully repulsed the Turkish attack and in the middle of 19th century, by the name of Sciscek, it registered a significant economic progress due to the constructed river transport passages and the railway system. After World War II, Sisak turned into one of the most developed industrial centres.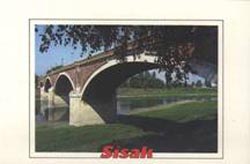 The town celebrates its holiday on July 4th in memory of its patron Bishop Kirin who lived at the end of 3rd and the beginning of 4th century. Nowadays, its defensive fortress from the 16th century, located in the Old Town, The Town Museum, the lovely places for country tourism attract visitors' interest. The Natural Park 'Lonia' is particularly famous. It is a picturesque area of rich biodiversity and a natural habitat of great number of storks. It is the reason why the town is called The European town of storks.
The partnership between the two towns started in 2001 after series of preliminary meetings and discussions with a view to twinning. A cooperation agreement between Gabrovo and Sisak in the field of economics, trade, culture, local self-government, education, youth and sport was signed on May 14th 2004.

Contacts:
Rimska 26,
4400 Sisak,
Republika Hrvatska
tel. 00385 44/523 552
fax:00385 44/510 010
e-mail: hgksk@hgk.hr